Tanki Online 2 Play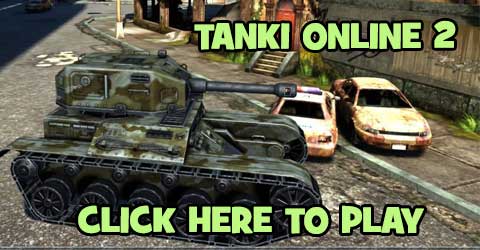 After receiving whole bunch of awards for original Tanki Online games- Best game without a publisher, Favourite Website to name a few- the developers had no choice but to proceed with the mission. And the mission is to bring flash-based rocking cool online 3D game with tanks. Almost 1 million of people around the globe are Tanki Tank drivers.

Second edition is naturally even better than the first. Why? Cause it features cleaner graphics, new game physics, more weapons, opportunities and better server distribution. Game is still free of charge with the option of in-game purchases. We wish you many nice shots! :)
PLAY

NOW!

Battle high tech Alien Tanks in the arena with your super tank.Controls Mouse

PLAY

NOW!

Do you like tanks? Everyone likes:) Try to destroy your enemies in a hard battle!Keyboard Mouse

PLAY

NOW!

EG Tank Wars are good old arcade tanks! In battle, gentlemen! Our opponents are well armed, so try to use both ...

PLAY

NOW!

Features • Two game modes • Power-ups availableControls WASD to move Left mouse click to shoot

PLAY

NOW!

FZ Tank vs Tiles - HTML5 Games. You can choose color to shot. Try your best to get high score. Foxzin.com with ...

PLAY

NOW!

First HTML5 tank game with real multiplayer. Good old deathmatch mode. Endless replayability.- Create or join the ...

PLAY

NOW!

In this game you need to destroy all other tanks opponent. Watch on tank health and destroy all other tanks. You ...